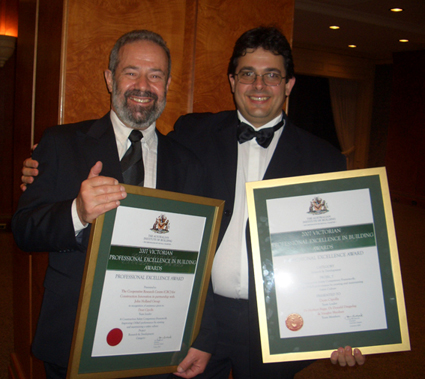 Safety culture project team leader Dean Cipolla (right) at the Victorian AIB awards with project researcher Dr Don Dingsdag of the University of Western Sydney


Construction Innovations safety culture research won the Victorian Chapter of the Australian Institute of Buildings (AIB) Professional Excellence in Building, announced on 22 June.
The safety culture project research team, headed by John Holland Group Safety Manager Dean Cipolla identified safety management tasks critical to achieving safe outcomes in the workplace and the roles within the industry that need to undertake these tasks.
The project mapped each role against each task to the skill and behavioural competencies required to successfully undertake each task and drive a positive site safety culture. By returning these findings to industry, it is anticipated that construction organisations can then train, coach and motivate employees to hold the required attributes to drive a positive safety culture.
The project produced a report entitled A Construction safety competency framework:Improving OHS performance by creating and maintaining a safety culture. The report was launched by the former Minister for Employment and Workplace Relations, the Hon Kevin Andrews, in Melbourne in September 2006.
The report presents a clear way forward for the construction industry by promoting a consistent standard to improve OH&S competency for key safety positions.