Media
Extra news
Turning green into black: Developing the business case for sustainable commercial buildings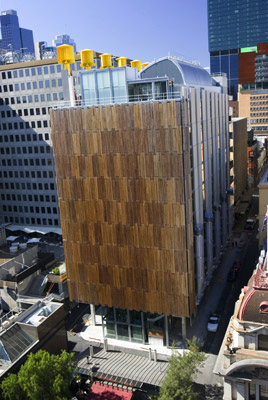 The City of Melbourne's Council House 2 (CH2) project, showcased on the Your Building website,  is the first purpose built office building in Australia to achieve the six Green Star certified rating.  CH2 features sustainable such as a water-mining plant in the basement, phase-change materials for cooling, automatic night-purge windows, wavy concrete ceilings, a faƧade of louvres (powered by photovoltaic cells) that track the sun. © City of Melbourne.


Training courses designed to provide information for industry to develop the business case for sustainable commercial buildings will be run next month  in
Melbourne
on 21 November,
Sydney
on 22 November and
Brisbane
on 26 November.
The courses have been developed from content available on the recently launched Your Building web portal for sustainable commercial buildings. This content has been developed into a hands-on half-day training workshop designed to build industry skills and professional development.
Supporters of sustainable commercial buildings are often challenged to justify their motivations to their board or executive management, clients, customers and agents. This justification is often sought because of widespread perceptions that sustainable buildings cost more, hold inherent risks due to the innovation involved, and do not add to portfolio value. Due to the infancy of many sustainable commercial buildings, the supporters' case is often weakened by a lack of documented evidence related to the performance of sustainable buildings.
The  Developing the Business Case for Sustainable Commercial Buildings workshop, an initiative of Construction Innovation in collaboration with the Australian Greenhouse Office, RMIT University and the Australian Sustainable Built Environment Council, develops the capacity of industry to:
·               identify business case drivers and value factors
·               justify the value of sustainability in commercial terms
·               create and present the business case for a project
·               influence and communicate with senior management, clients and key decision makers
·               employ practical sustainability tools, models and concepts.
Click here to register online:
The Developing the Business Case for Sustainable Commercial Buildings workshop is the first of a series of training courses planned to build industry skills and knowledge of sustainable commercial buildings.
Other sustainable commercial building training courses planned for the first half of 2008 include:
Developing a Brief

Facility Management
Life Cycle Costing
Valuing a Sustainable Commercial Building
For more information, or to register your interest for any of the above courses, contact Lyn Pearson, Education Officer, CRC for Construction Innovation: Tel 07 3138 9295 or
l.pearson@construction-innovation.info
.