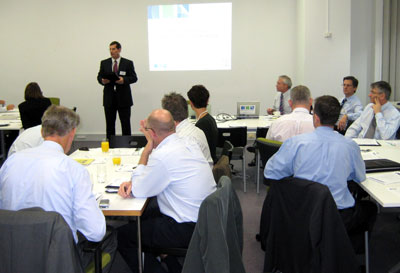 WA stakeholder workshop
A stakeholder's workshop held by the CRC for Construction Innovation in Perth on 28 May confirmed the commitment by WA government, industry and researchers to sustainable infrastructure delivery, a national framework for improved safety, best practice procurement strategies and enhanced productivity.
The workshop was attended by senior WA Government representatives from Treasury, Office of Strategic Projects, Planning and Infrastructure, Housing and Works, Main Roads, Culture and the Arts and the WA Museum.
Industry was represented by staff from 12 industry associations and the Built Environment Design Professions. Key representatives from Construction Innovation's industry partners and collaborators included Mirvac, Leighton, PB,  Woods Bagot, Thiess, John Holland Group, Transfield Services and Rider Levett Bucknall.
Research partners attending included the Curtin University Sustainability Policy Unit, WA Planning and Transport Research Centre, and other Curtin University researchers.
The group indicated strong support for the Sustainable Built Environment CRC and through workshop activities developed a number of exciting research projects relevant for WA that the new CRC could undertake. These projects included:
evaluation of productivity gains in complex facilities such as hospitals
a more sustainable sports stadium for Subiaco and WA museum
green infrastructure strategies
integrating leading resource sector safety practices into the construction sector and evaluating registration and licensing practices between States
identification of 'future skills' required for industry and mechanisms to make industry more capable, such as internships
project delivery benchmarking for procurement
The WA stakeholder's workshop was the first in a series of workshops Construction Innovation is running in Sydney, Melbourne and Brisbane this next month to undertake discussions and seek stakeholder engagement on future projects for the Sustainable Built Environment CRC.
Construction Innovation is developing a new Sustainable Built Environment CRC which will commence operations in 2009 and deliver:
integrated solutions to minimise water, energy and waste in new and existing infrastructure and buildings to reduce carbon emissions in the built environment
world class research to improve occupational health and safety on Australian construction sites
improved procurement frameworks and a foundation for transforming the business environment to improve industry productivity.