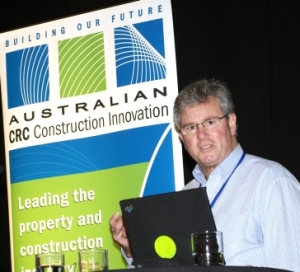 Dr Mike Williams, Senior Vice President & Chief Information Officer, PB Americas, Inc (USA)

Construction Innovation's
Third International Conference, Clients Driving Innovation: Benefiting from Innovation, proved a huge hit with over 200 delegates and conference presentations are now available for
download
.
Conference statistics:
Held on the Gold Coast on 12-14 March 2008, the conference theme focused on demonstrating the benefits of applied research and innovation in the construction industry.
The conference program featured 75 presenters representing 7 countries - Australia, UK, USA, Hong Kong, Sweden, The Netherlands and Pakistan
108 submissions received following Call for Abstracts, excluding keynotes and guest speakers. These submissions were received from 15 countries and involved over 200 authors/co-authors
The program featured a mix of 34% case studies and 66% refereed papers
Presenters included a mix of 51% industry/government and 49% research organisations
The 200 delegates represented 11 countries - Australia, USA, UK, Hong Kong, Finland, The Netherlands, South Africa, New Zealand, Canada, Sweden and France
The majority of delegates were from industry, followed by approximately equal numbers from government and research organisations.
Construction Innovation would like to thank its sponsors for their support on what proved to be our most successful conference ever:
Gold sponsor – Queensland Department of Public Works
Silver sponsor – Office of the Federal Safety Commissioner, Department of Education, Employment and Workplace Relations
Bronze sponsors – 12d Solutions Pty Ltd, Australian Institute of Building, Building Commission, Queensland Department of Main Roads
Welcome Dinner sponsor – Royal Australian Institute of Architects
Formal Dinner sponsor – Australian Institute of Quantity Surveyors
Carbon offset sponsor - Origin
Full details are available at
http://www.2008conference.crcci.info./